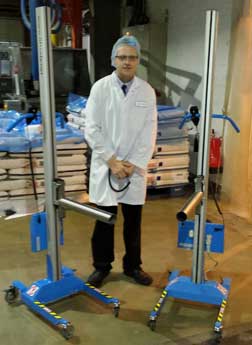 The lifters are being used for lifting reels on to the production machines. These 15- 20kg reels used to be lifted manually to feed the production machines. Due to the location and height of the reels it was often awkward for the production staff to install these reels.
Now that that they have two lifters from Lift Safe Ltd reels are lifted off pallets horizontally transported to the production machine and fed on the machine with little to no manual effort.
These lifters work well where there isn't much room as they are so light and easy to move around. Picture shows Tom Dignan H&S Officer for Patterson Arran Ltd who was involved in the sourcing and procurement of the equipment.