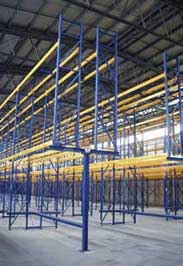 We can advise you on the optimal utilisation of your storage space with regards to the selection of appropriate racks or electric transport equipment for your warehouse.
By means of a special computer program, we develop jointly with you a layout that is tailored to your specific needs. Simply send us a ground plan and we will supply you with the perfect layout.
With the FurniBox you not only get a tried and tested transport unit for your furniture, but also important information on setting up your warehouse.

"The lifter Lift Safe supplied is excellent, both operators of the laying machine have said its works perfectly and saves a lot of heavy lifting sometimes with 2 people, as you will see from the photos the roll needs to be lifted to almost head height so previously it was a struggle, however with your lifter the job is much easier and safer now."
Mike Greer. Manager. AMR Textiles